Using your photos for inspiration
I prefer simple layouts for my scrapbooks. I want my pages to be interesting, but I have found that if I start with some great pictures, the rest is easy. Sure, I sometimes get caught up in finding the right paper, the right stickers, or other embellishments. But, I love to be able to use my photos as the primary work of art, and then find just the right way to highlight them.
Many times our photos are from a special moment in our lives. Sometimes this may mean that they photos are from a particular holiday or birthday or some other event where there are tons of embellishments available for use in our scrapbooks. Yet, I challenge you to look at your pictures and try to pick out something in those photos that you can pull out to add emphasis to your photos.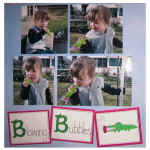 For example, in this layout, I had some great pictures and I wanted to use as many as I could on a one page layout. So I arranged my photos in a way that was visually pleasing, and then used the extra space to emphasize the alligator bubble blower. My daughter found this the easiest apparatus to use for blowing bubbles. So by using this alligator as my inspiration, I used its colors to create a title. Then, using an alligator sticker, I once again emphasized the alligator.