fClick here for pattern.
Directions: Click the picture above to get a printable pattern for the page. You may use whatever colors you prefer for this layout. I used mostly brighter colored papers. You may also want to adjust the placement and or sizes of the blocks on the page depending on your photos.
Place the pattern over the colored/printed paper you desire and cut out pattern and paper at the same time. After all the piece are cut out, you will want to assemble the beach ball and the sunglasses by attaching the smaller pieces to the larger base.
For the beach ball, attaching the small pieces can be tricky. The two larger pieces of should go on one side of the ball with their arcs in opposite directions. The same applies for the two small pieces on the other side of the ball. The small circle is place where all the pieces intersect. See example of placement below.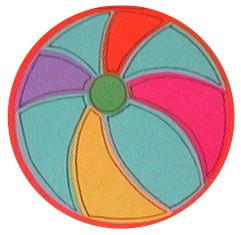 On the this beach ball, I used the teal color as the base (large circle) and the other colors were the smaller pieces I added.
After all of the pieces have been put together, use a black marker to outline the pieces for definition.
Next, you will matte your paper piecing and photos. Try to use colors that complement your designs and don't drown them out. You will want to think about positioning your photos and paper piecing before cutting the finished mattes. Cut your items so that there is only a thin line of your background page showing through between the pieces to achieve the "block design" effect. You can also use the black marker to outline your photos on the matte to complete the look. If you are left with some smaller or thinner pieces, don't worry! Use them for journaling or for your title.
On my design, I used a computer font for the lettering "Having a Ball."