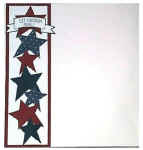 Directions:
Print out patterns on this page.
Using a paper cutter, cut a piece of white paper
that is 3 1/4" X 11 1/2". Also, cut a piece of cranberry paper that is 3 7/8" X 12". Center and mount white paper onto cranberry paper.
Cut the banner out of white paper and mount onto navy paper. Cut around leaving a small amount of navy paper as a border.
Cut star pattern 1 out of cranberry paper.
Cut star pattern 2 out of cranberry, navy, and navy star papers.
Cut star pattern 3 out of navy star paper.
Cut star pattern 4 out of cranberry and navy papers.
Arrange and mount stars on the white paper, overlapping them to fit.
Print "Let Freedom Ring" on the banner and mount it over the top of the first star.